Shin Etsu MicroSi Thermal Interface Material X23 7868 2D 6.2W mK
Rating:
1 product review
Availability:
In Stock
(Usually ships within 24 hours)
Product Description
Shin-Etsu MicroSi Thermal Interface Material X-23-7868-2D (W/mK > 6.2)
X23-7868-2D, is a thermal interface material developed and manufactured by Shin-Etsu Chemical with ease of application in mind. Specifically formulated to include an application chemical to allow ease of screening and other application techniques. With a higher Thermal Conductivity coupled with lower Thermal Resistance exceeds thermal management requirements of high-performance semiconductor devices. Through superior heat dissipation, the X23-7868-2D allows electronic devices to remain cooler and increases their long term reliability.
Free Shipping Worldwide

MADE IN JAPAN!
Excellent thermal resistance (TR) and thermal conductivity (TC)
Low viscosity at the time of application, easily applied via dispensing, stencil printing, or screen printing methods
Stable homogeneous mixture for consistent thermal performance
RoHS and REACH Compliant
High volume production product from a proven industry leader Available worldwide through established supply chain networks
General Properties
Syringes : 5G
Color : Grey
Viscosity (Pa·s) (pre-flash) * : 100
Viscosity (Pa·s) (post-flash) * : 680
Thermal Resistance ***(mm2-K/W) : 5.0
Thermal Conductivity **(W/m °K) (post-flash) : 6.2
BLT (µm) (Thin—BLT) (20psi) : 30
Companies like Apple, Google, AMD, Intel, NASA, IBM, HP,
Boeing
, etc are also buying these Shin-Etsu products from us!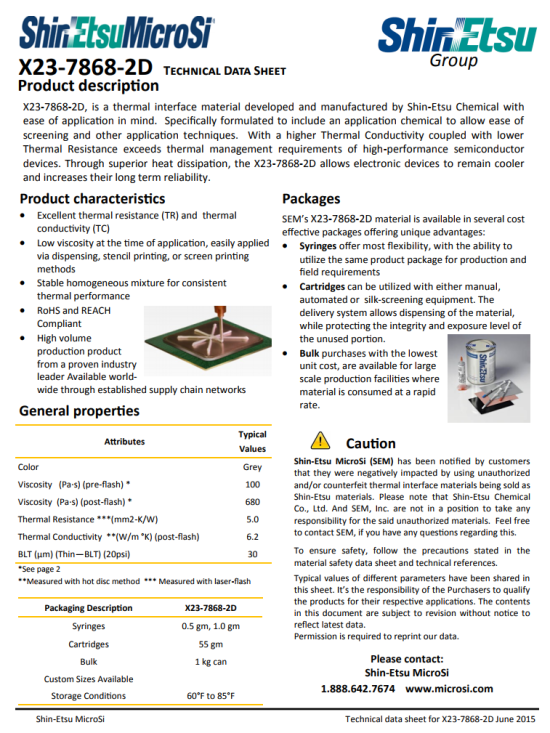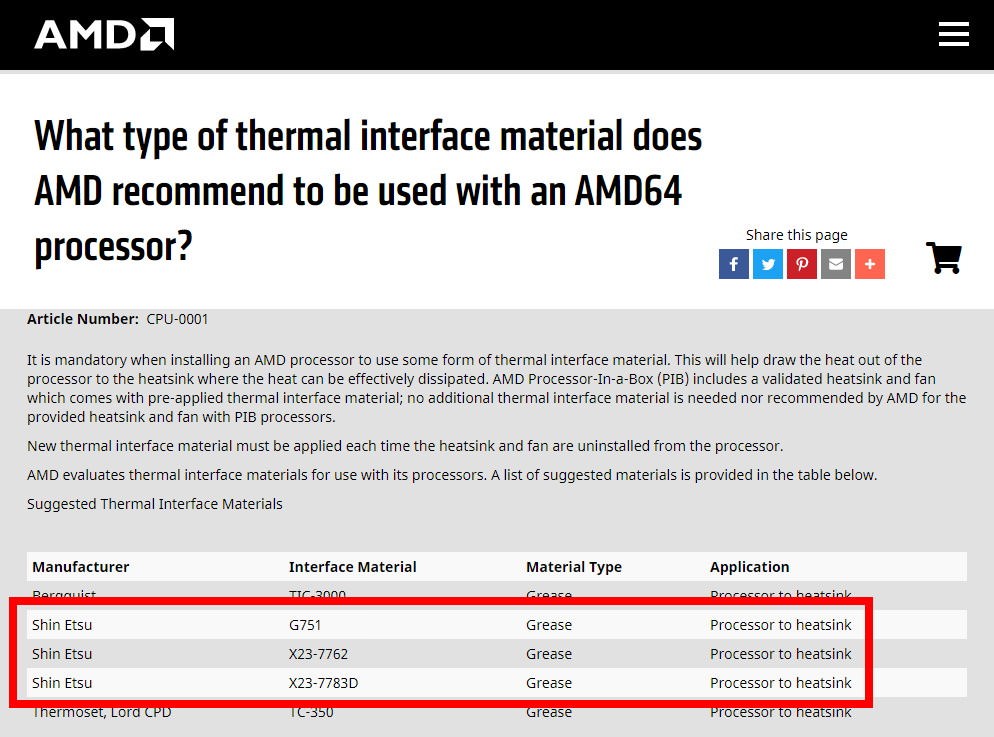 Source: https://www.amd.com/en/support/kb/faq/cpu-0001
Tags:
Shin Etsu X23 7868 2D in Syringe
Find Similar Products by Category
Customers Who Bought This Product Also Bought