Product Description
BLACK FRIDAY
SALE
2022
10% OFF ALL PRODUCTS
Enter coupon BF10 at checkout now!
ALL Products FREE Shipping for orders $100 or more!
The thermal grease KP 99 is a high quality thermal grease. The homogenous and thixotropic grease shows a very good fluidity thanks to its good viscosity characteristics. An optimum surface adaption is guaranteed.
Free Shipping Worldwide

MADE IN GERMANY!
Excellent thermal resistance (TR) and thermal conductivity (TC)
Low viscosity at the time of application, easily applied via dispensing, stencil printing, or screen printing methods
Stable homogeneous mixture for consistent thermal performance
RoHS and REACH Compliant
High volume production product from a proven industry leader Available worldwide through established supply chain networks
General Properties
Syringes : 3.5G
Color : Anthracite
Viscosity (Pa·s) : 90 - 140
Thermal Resistance ***(mm2-K/W) : 0.0068
Thermal Conductivity **(W/m °K) (post-flash) : 9.2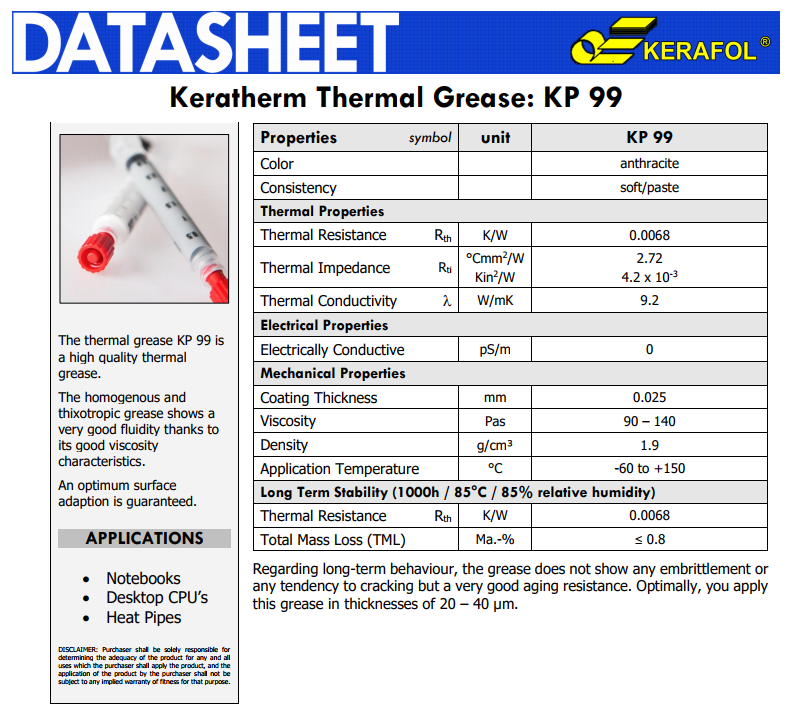 Find Similar Products by Category
Customers Who Bought This Product Also Bought