modDIY USB Protective Jack Cover
SKU: PJC-USB
Rating:
3 product reviews
Availability:
In Stock
(Usually ships within 24 hrs)
Shipping:
Calculated at checkout
Product Description
SUMMER
SALE
2021
10% Off All Products
Enter coupon SUMMER10 at checkout TODAY!
* Plus Free Shipping Worldwide All Products for Orders $100 or more
This protective cover can be inserted into an unused USB port to prevent dirt, dust, liquids and other contaminants from entering.
Made from a flexible ABS material, the USB protective covers snugly stay in the port even during transport.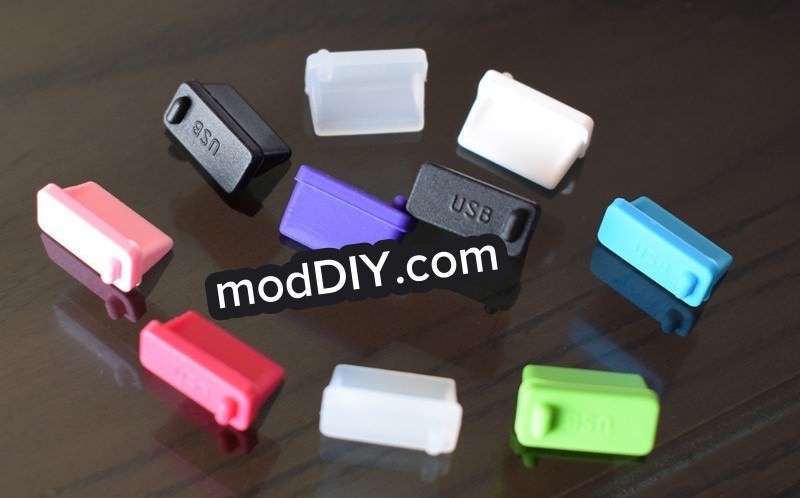 Tags:
covers for port usb
usb cover plugs
usb cover cap
USB Port Covers
usb port cover
micro usb port covers
usb dust cover cap
moding computer motherboard plugs
usb cover
usb port covers
DVI Protective Cover
usb cap
laptop usb port covers
homemade jack protector
computer case mods
usb port protector
usb dust covers
cover for usb port diy
USB port Protective Cap
usb port caps
usb dust cover
usb plugs covers
protective dust caps for rca plugs
protective jack covers
USB protective cover
headphone jack cover
USB Protective Cover for Type A Jacks
usb port plug
usb port cap
usb port cover cap
usb outlet plugs cover
order usb port covers
usb port plug cover
usb A cover
usb protective cover
usb covers
Find Similar Products by Category
Write a Review
Product Reviews
Should Be a Part of Every Build!

By Kenneth on 2016-01-12 | Verified Purchase ✓

"These things are great! They're easy to use, and they really give the case a finished look. Get the audio covers too and your PC will have a solid black front with no gaping holes. Very nice!"

---

Works Well

By Unknown on 2015-07-17 | Verified Purchase ✓

"Easy to insert and remove, stays put, and protects the USB contacts well. Wish I'd ordered an extra 20!"

---

Like a glove!

By Unknown on 2012-03-08 | Verified Purchase ✓

"Fits perfectly, securely, and is easy to remove. What more can you ask for?"

---
Customers Who Bought This Product Also Bought