Self Stripping Quick Splice T Tap Wire Terminal Connector 10 to 22 AWG
Rating:
5 product reviews
Availability:
In Stock
(Usually ships within 24 hours)
Product Description
Self-Stripping Quick Splice T-Tap Wire Terminal Connector (10 to 22 AWG)
TAP INTO ANY WIRE WITH EASE - Self Stripping Electrical T Tap Connectors will tap into any wire without needing to cut, strip or solder. Mid span wiretapping has never been easier before
PREMIUM QUALITY - Thicker tinned copper contacts will not bend even when tapping into thicker wires; Quick splice T Tap connectors will securely lock on the wire. Plastic housing will not open after it has been snapped on the wire
DURABILITY - Each terminal features a thick tinned copper barrel that resists corrosion to hold the wire tight when crimped. High-temperature resistance up to 221degree Fahrenheit
WIDE APPLICATIONS - T-Tap Wire Connectors + Male Quick Disconnects will last for numerous wiring projects. Marine, automotive, scientific, home wiring projects - you name it. This T TAP connector kit will allow you to quickly tap into any wire in any application
BRAND QUALITY COMMITMENT - We stand behind the quality of our products. If for any reason you are not satisfied with your purchase, please contact us. We provide 30-day money back and 24-month warranty. 100% Satisfaction Guarantee for risk-free shopping!
Types:
Red: AWG:22-18; Wire range: 0.5-1.5mm²; Max current:10A; Length:3.5cm/1.4"

Blue: AWG:18-14; Wire range: 1.5-2.5mm²; Max current:15A; Length:3.5cm/1.4"

Yellow:AWG:12-10; Wire range: 2.5-4.0mm²; Max current:24A; Length:3.7cm/1.46"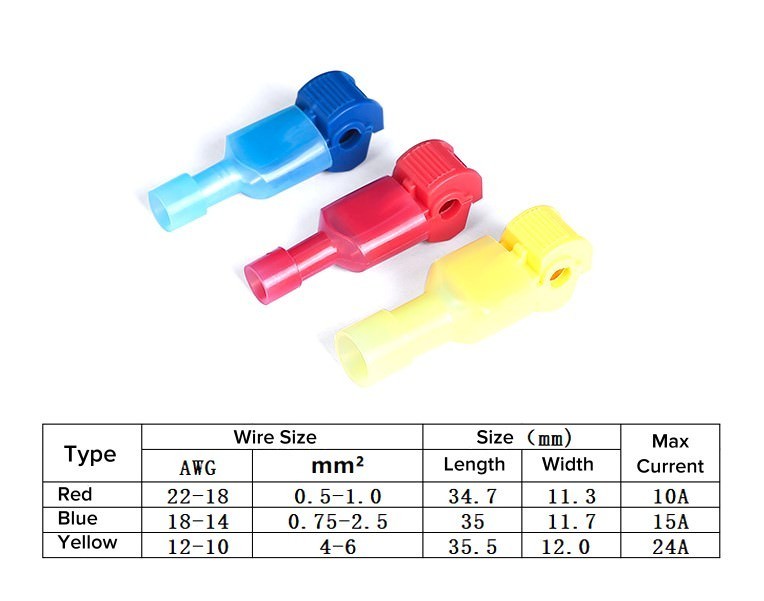 Find Similar Products by Category
Write a Review
Product Reviews
Will definitely purchase again

By Micaine C on 2022-09-24 | Verified Purchase ✓

"Understood the wait would be long so I was pleased when package arrived earlier than expected. All items were as stated, and present. Overall pleased with the products and install went smooth. Will definitely purchase again."

---

Great products and customer service

By JnW Ag on 2021-07-30 | Verified Purchase ✓

"Great products and customer service"

---

great experience

By paul w on 2021-07-06 | Verified Purchase ✓

"great experience"

---

Спасибо

By Vitaliy on 2020-11-28 | Verified Purchase ✓

"Спасибо"

---

Big Thanks !!!!!!

By Mario P on 2020-09-27 | Verified Purchase ✓

"Big Thanks !!!!!!"

---
Customers Who Bought This Product Also Bought