Premium Gold Plated Micro USB Fast Charge Cotton Sleeved Cable for Android, Samsung, HTC, Nokia, Sony and More
By CE-Link the leading USB charging brand.

High Speed: Charges up to 7% faster than standard cables and transfers data at 480Mbps via USB 2.0.

Incredibly Durable: 4000+ bend lifespan up to 4X longer than original device cables. 24K gold-plated connectors resist heat and corrosion.

Long & Slim: from 50cm to 200cm. Compact connector head fits most cases.
CE-SCC-MICRO-G
Free Shipping Worldwide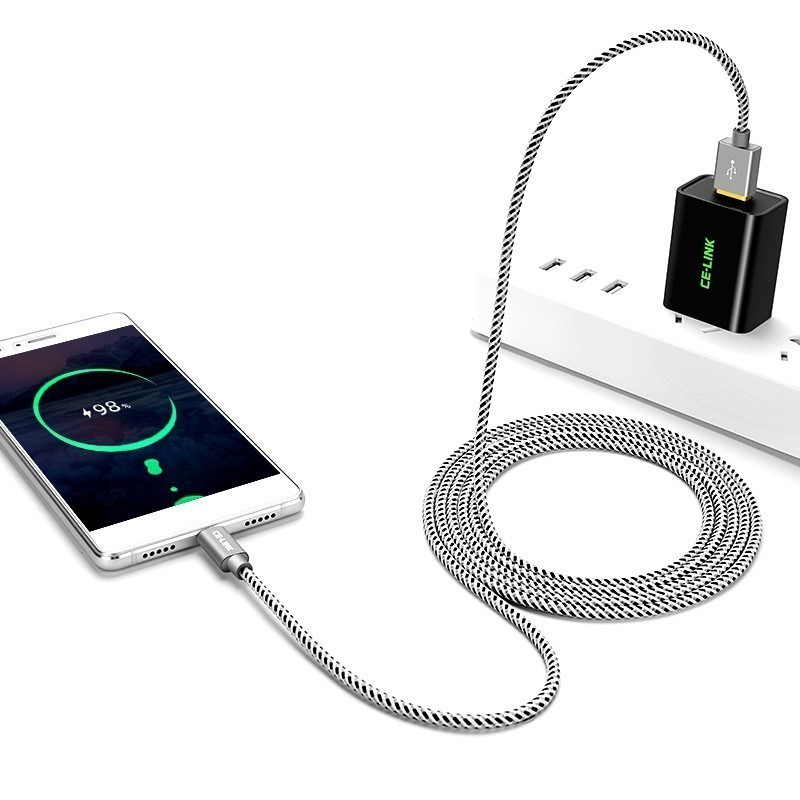 Premium Micro USB Cable
Charge and sync with speed.

From CE-Link, Leading USB Charging Brand
• Faster and safer charging with our advanced technology
• 10 million+ happy users and counting

High Speed Charge & Sync
Charge around 7% faster than most standard cables and sync at speeds of up to 480Mbps through wide diameter 28 / 21 AWG data and power wires.

Incredible Durability
We bent this cable over 4000 times and saw no damage or change in performance. Premium nylon fabric feels great and doesn't tangle.

2X Longer
With an extra long 6ft cord, connect your phone, tablet or other devices further than before. (1m/2m/3m)

Superb Fit
Our compact, gold-plated connector heads fit into almost all cases, big or small. Don't be denied your case of choice by a bulky cable.

Worry-Free Warranty
At CE-Link, we believe in our products. That's why we back them all with an 18-month warranty and provide friendly, easy-to-reach support.

Works With:
• Virtually ALL Android & Windows phones & tablets
• Samsung, HTC, Motorola, Nokia, LG, Sony, PS4, Xbox, PS Vita, Nintendo DS, GoPro
• GPS devices, portable chargers, Bluetooth speakers, wireless keyboards, e-readers, cameras & camcorders