New USB 3.0 19 Pin to Motherboard USB 3.1 Gen 2 Type C Front Panel Header Adapter
This mini USB 3.0 to USB 3.1 adapter board is a converter to convert the available USB 3.0 header of a motherboard into a USB 3.1 header. Thus the USB 3.1 port of a housing can also be supplied with USB 3.1 without a suitable mainboard. The compact adapter can be inserted directly and requires no additional attachments.
Even the most up-to-date motherboards with AMD AM4 or Intel 2066 sockets are not always equipped with a USB 3.1 header. This converter is the perfect solution to use the USB 3.1 connectors with Type-C or Type-A. The small converter is plugged into a USB 3.0 header that provides two USB 3.0 lanes. Thus, two data lines with 5 Gbps each are available, which are bundled into a USB 3.1 header with 10 Gbit / s. This USB 3.0 to USB 3.1 converter thus provides a full-fledged USB 3.1 port.
USB 3.0 Header 19-Pin to USB 3.1 Type-E 20-Pin
USB 3.0 (3.1 Gen 2) Internal IDC 20 Pin Motherboard Header to A-Key 20 Pin Female Header Active Converter for Type C Panel Mount Adapter

Dimensions : (W) 24.9mm x (H) 28.9mm
USB-30-31-C

Features:
Converter plug-in for the mainboard

Fits into any USB 3.0 header

Bundling in USB 3.1 with up to 10 GBit / s

Compact shape factor

Convenient accessory for case with USB 3.1 connector

USB 3.1 Motherboard Front Panel Header Gen 2 Female to USB 3.0 Internal 20-Pin Male Header Male
Color: Black

Speed: 10Gbps

Current:

5v 900mA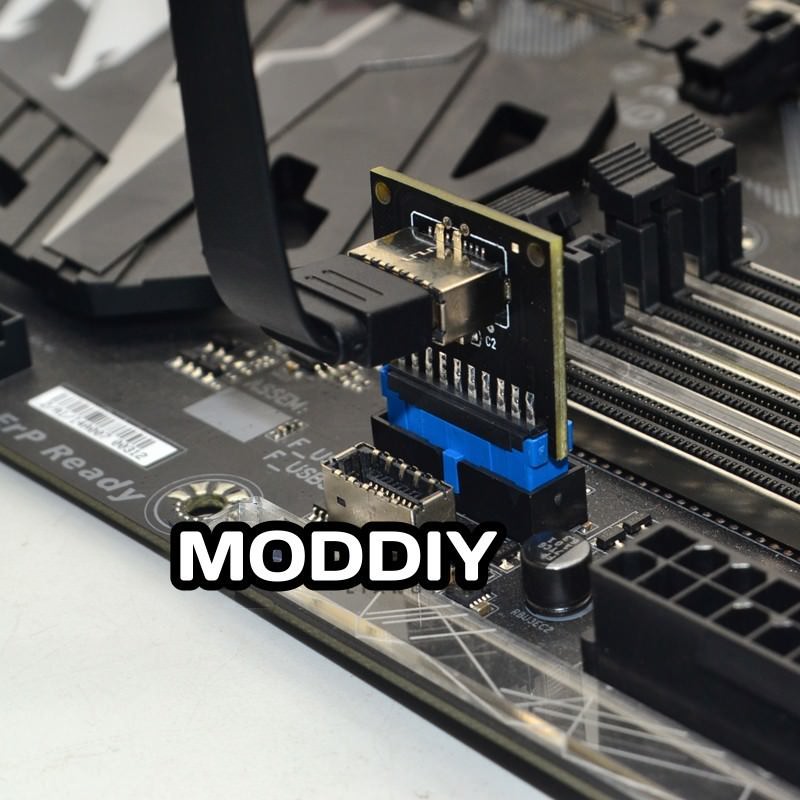 Tags:
SST-CP14
USB 3.0 (3.1 Gen 2) Internal IDC 20 Pin Motherboard Header to A-Key 20 Pin Female Header Active Converter for Type C Panel Mount Adapter
usb 3.0 header to usbC header
front panel connector usb type e add on card
internal usb 3.0 to 3.1 converter
panel frontal usb 3.1 a motheboard 3.0
usb 3.1 gen 2 front panel header
usb 3.1 motherboard header
usb 3.1 gen 2 header to usb 3.0 19-pin adapter
USB31/G2-USB3/20P
PW-INC1TR
USB 3.0 to USB 3.1 Converter
Motherboard header USB 3.0 to USB 3.1