USB 2.0 10 Pin Header 1 to 4 Internal USB Hub 4 Port Splitter Board
Rating:
5 product reviews
Availability:
In Stock
(Usually ships within 24 hours)
Product Description
The Internal Power/DATA Distribution PCB 4xWay Block is the perfect organizational solution for hard core modder's, water cooling enthusiasts and other power users that use a large amount of USB Devices in their systems or servers.
Why use clumsy Y splitters that just add to cable clutter when you can have a clean point to distribute power and data to all your USB Devices? These small PCB's are made of the highest quality and include and easy to install preinstalled black mount rail and Velcro strip.
This allows you to mount virtually anywhere in your case including all those hidden places modder's like to route their cables to. For those that want the best look these have a black PCB and connectors. So, eliminate all those extra cables and install this USB 2.0 power/data distribution PCB to be a Pro!
USB-IH-4
Input: USB 10-Pin
Output Power: 3 x USB 10-Pin + 1 x USB Type-A
PCB Adhesive Backing: Yes
Cable: Yes, one 10-Pin USB female-to-female cable included!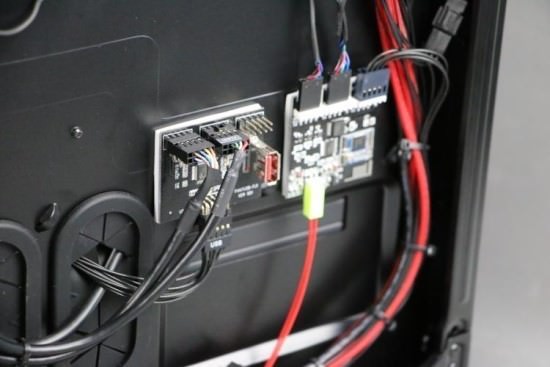 Find Similar Products by Category
Write a Review
Product Reviews
Great choice of products. Nice customer service.

By Arnaud on 2022-12-15 | Verified Purchase ✓

"Great choice of products. Nice customer service. You know what you do."

---

good

By Mark L on 2021-06-12 | Verified Purchase ✓

"good"

---

I can find items here that are unavailable anywhere else!

By Kristin on 2020-11-11 | Verified Purchase ✓

"I can find items here that are unavailable anywhere else!"

---

so far so good

By Martin on 2020-06-24 | Verified Purchase ✓

"so far so good"

---

Just the job!

By Tony on 2018-08-02 | Verified Purchase ✓

"Not enough headers on my mobo,this little adaptor solves the problem.Ensure plugs are fully inserted onto the pins."

---
Customers Who Bought This Product Also Bought