PowerSync Premium Gold Plated 10Gbps 600MHz Cat.7 Cable (1M)
CAT701FL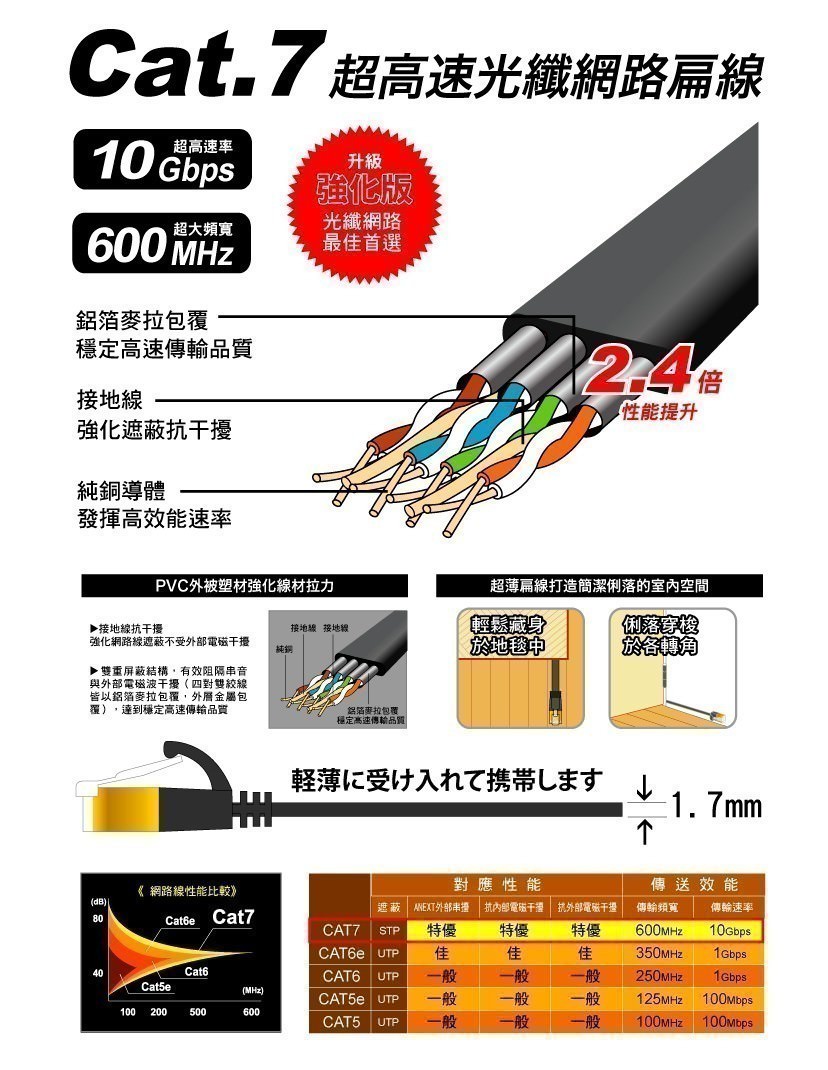 ? Bandwidth is up to 600MHz, and transmission rate is 10Gbps.
? Support 10GBASE-T, 1000BASE-Tx, 100BASE-T, 10BASE-T, 155/622 Mbps ATM, 100VG-AnyLAN
(IEEE802.12) This cable got UL/CUL certifications, meets RoHS standard.
? Double shield structure, effectively prevent crosstalk and external electromagnetic interference
(four twisted pairs wrap with aluminum Mylar), to stabilize the high-speed transmission quality.
? High precision gold-plated connector shell, prevent rusty and resistance of oxidation, long-life
usage, provide the best transmission quality.
? Cat.7 high-speed lan cable applies to the ADSL, CATV and other network services provide by ISP,
also compatible with new generation network environment of fiber optic.
? Ultra-thin flat design gives the room clean and organized look, the cable won't take up any extra
spaces since it's only 1.7mm thickness and 6.5mm width.
The soft and tensile strength material
is the best solution to the cable breakage problem. It
can be hid
den under the carpet (board) and
any narrow spaces under the layout.
? Ground wire strengths the resistance of interference and lan cable shielding, so won't interfere by
external electromagnet.
Specifications?
? Function : Use for the connection between computer Ethernet port and lan hub…ect.
? Gauge?32AWG?4 Pairs Stranded?
? Conductor?Bare Copper
? Connector?Gold plated RJ-45 Male to Male
? Wire Size?Width 6.6±0.1mm?Thickness 1.7±0.05mm
? Material of Cover?PVC
? Length?1 / 2 / 3 / 5 / 7 / 10 m