IBM Lenovo PSU Main Power 24-Pin to 14-Pin Adapter Cable (30cm)
IBM Lenovo PSU Main Power 24-Pin to 14-Pin Adapter Cable (30cm)
IBM Lenovo PSU Main Power 24-Pin to 14-Pin Adapter Cable (30cm)
IBM Lenovo PSU Main Power 24-Pin to 14-Pin Adapter Cable (30cm)
Rating:
(6 product reviews)
Availability:
In Stock
(Usually ships within 24 hours)
"97% of customers would recommend modDIY.com to a friend."
---
Product Description
Limited-Time Special Offer + Free Worldwide Shipping
IBM Lenovo PSU Main Power 24-Pin to 14-Pin Adapter Cable (30cm), built with top quality UL1007 18AWG wires.
Suitable for IBM/Lenovo models, e.g. H50/H81/H530/M92P/M93P/Q77/B75/A75/Q75. All Lenovo 14pin ports are the same. Work for any computer model.
Our top quality Lenovo adapter cable is the only recommended solution at the official Lenovo forum.
(Please contact us if you need other custom cable length or color)
See all IBM / Lenovo cables at //www.moddiy.com/categories/Cables/IBM-%7B47%7D-Lenovo-%7B47%7D-Acer-Cables/
FAQ: What is HD Sleeved cable type option?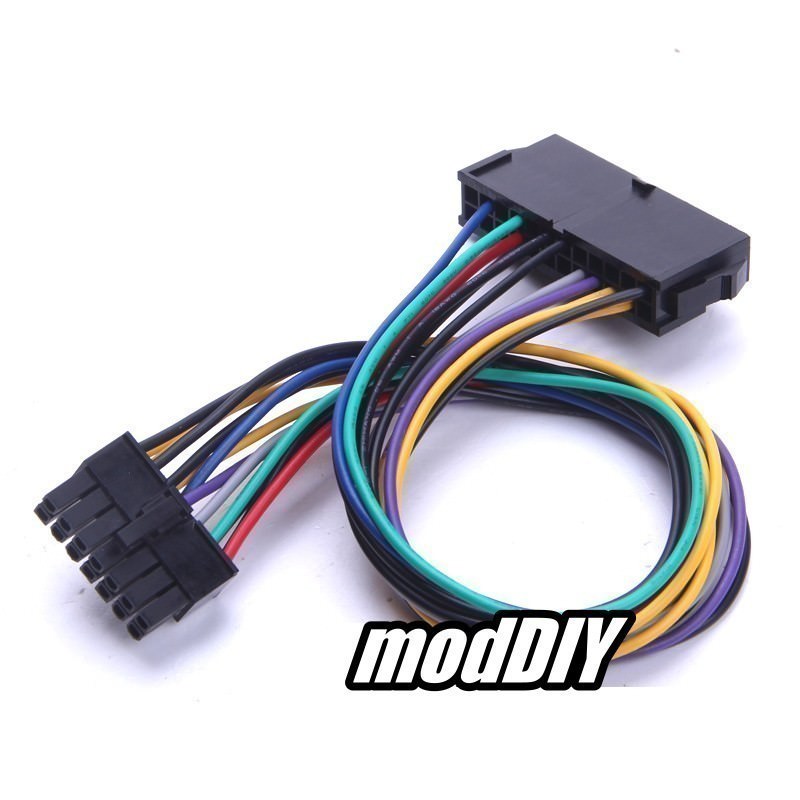 Premium Sleeved version is available:
Find Similar Products by Category
Product Reviews
Best Shop ever

– Rating

Posted by Halman – 2018-12-03

Fast and perfect, people from moddiy.com are behind their products, and behind their customers, total pleasure. Items come to Spain in a week. Tienda recomendada 110%, te soluciónan cualquier duda o problema rápido, el paquete llegó a España en una semana, los recomiendo, son serios y miran por sus clientes, trato excepcional.

---

can anybody tell difrents

– Rating

Posted by Unknown – 2015-07-07

What is difrent in hdsleeved and standard onw

---

Life Saver

– Rating

Posted by Stephen Anderson – 2015-06-17

Having bought parts to upgrade my Lenovo H50 50 imagine my shock at finding the non-standard connector on the motherboard.
This cable is a perfect solution, delivered in about 10 days I cannot complain. I cannot recommend enough.

---

THANKS A LOT!!!

– Rating

Posted by Gio – 2015-03-29

Got it (HD sleeved) for my lenovo H530 with H81 LGA 1150 and that stupid 14 pin socket..works fine with my new Enermax ENP500AGT for a QUADRO..
Arrived 15 days after the shipment to my small city near Turin, Italy..SO IT'S GOOD!!!

---

Thank you

– Rating

Posted by Unknown – 2013-12-20

I have an Lenovo M series tower and this works beautifully, have upgraded my psu and now it can handle an upgraded graphics card, very happy

---

Works Perfectly

– Rating

Posted by Artie – 2013-12-20

Ordered one to connect to a 650w power supply to run my gtx 660 and works a charm, highly recommend

---
Customers Who Viewed This Product Also Viewed
Product Tags
24 pin to 14 pin adapter
psu 14 pin
Lenovo Power Supply 14-Pin
24 to 14 pin connector
24 pin to 14 pin power lenovo adapter
lenovo 14 pin power supply adapter
lenovo R430 add power 6pin
atx power supply 14pin
lenovo 14 pin molex adapter
ibm lenovo 24 pin power supply pinout
24 to 14 pin adapter
lenovo psu pinout
lenovo 14 to 20 power supply adapter
Lenovo 14pin to 24 pin power supply adapter
Power suply 14 pin
IBM Lenovo PSU Main Power 24-Pin to 14-Pin Adapter Cable
lenovo 14 pin power supply
24 pin to 14 pin adapter
14 pin lenovo power supply replacement
lenovo 24pin to 14pin
power supply 24 pin to 14 pin
Lenovo m92p psu 20-pin and 14-pin
14 pin cable
4pin ibm adapter power
atx power supply 14 pin