Product Description
Corsair Premium Single Sleeved Modular Cable Set (Black/Orange/White) - 4pcs of Premium Single Sleeved Cables
All modDIY premium custom modular cables are built with high quality UL1007 18AWG wires (wires in matching colors), premium gold plated pins, and high density cable sleeving.
1pc of 18+10pin to 20+4pin Main Power modular cable, 40cm
1pc of 8pin to 4+4pin CPU/EPS modular cable, 50cm
2pcs of 8pin to 6+2pin PCIE modular cables, 40cm
FREE Worldwide Shipping
Premium High Quality Custom Modular Cables
International safety

certification standards

of environmental protection

of electronic

wire

American Standard

UL1007 18AWG

High quality

3-

wire

braid

sleeves

Black

connector

High-quality

gold-plated pins
Same price for any PSU brand/model. Same price for any sleeving color! Simply state your PSU model and required color in order remark during checkout.
See Custom Cable Showcase for cable sleeving color reference.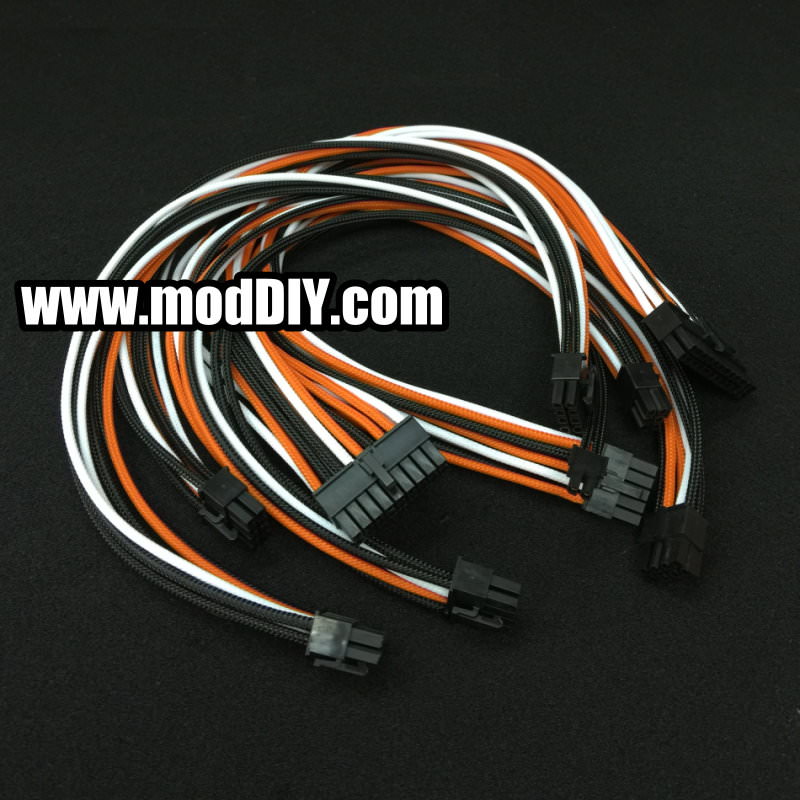 Tags:
Corsair custom braided sleeved black orange white cables
Corsair black orange white modular cables
Find Similar Products by Category
Customers Who Bought This Product Also Bought